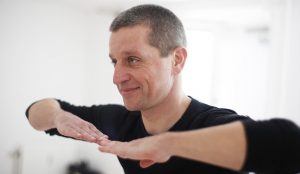 Background
I was born in Munich, in 1965. In 1984 during my first visit to Nepal I came in contact with Tibetan Buddhism and decided to join the November course in Kopan monastery.
Since then the candle of inner quest has been a marker in my life.
I have practiced and studied Mahayana and Theravada Buddhism, Gestalt, Rebirthing, conventional psychotherapy. I also have a diploma in Postural Integration® (a bodywork modality by Jack Painter) and plenty of experience with fasting as a promoter of health.
Practice and certification
I have previous experience in various yoga schools and styles, ex. Sivananda yoga, Power yoga, Asthanga yoga and Iyengar® yoga.
I got my diploma from the Sivananda School in Switzerland in 2004 and in 2007 I became a certified Iyengar® Yoga Teacher, trained by Kate and Ali Dashti in Bern Switzerland .
Lastly, in 2014 I passed my "Junior Intermediate level1" assessment at B.K.S. Iyengar® Yoga Centre Copenhagen.
In addition to that, I have recently followed a three year training program for teachers, with Stephanie Quirk covering the therapeutic aspect of Iyengar® Yoga. I have also spent one year studying in Nice with senior Iyengar®Yoga teacher Christian Pisano and I have studied at the Iyengar Yoga Institute Pune (IN). Other Senior Iyengar teachers I have studied with, are, to name some; Rajiv and Swati Chanchani (IN), Sharat Aurora (IN), Jean Lechim (CH), Kate and Ali Dasthi (CH) Lois Steinberg (US)
At this point in time, to deepen my understanding, I practice daily and I continue to update myself regularly with workshops by various senior teachers in the Iyengar Yoga method in Denmark and abroad.
What attracts me to these physical approaches is the direct action of the practice on the body and mind with immediate results.
Teaching
I teach classical Iyengar® yoga, based on alignment, sequencing and time spent in the poses and personally I do enjoy a physical challenging approach, which is reflected in my teaching.
For me, Iyengar® Yoga is an interface in which to connect with people and for people to connect with themselves. It is my belief that it is not a dogma to be followed, practice should be a pragmatic and explorative approach to growth and transformation in our lives.
I do believe that there is no superior technique or teacher, but an appropriate practice and teacher according to everyone's personal wishes and needs.