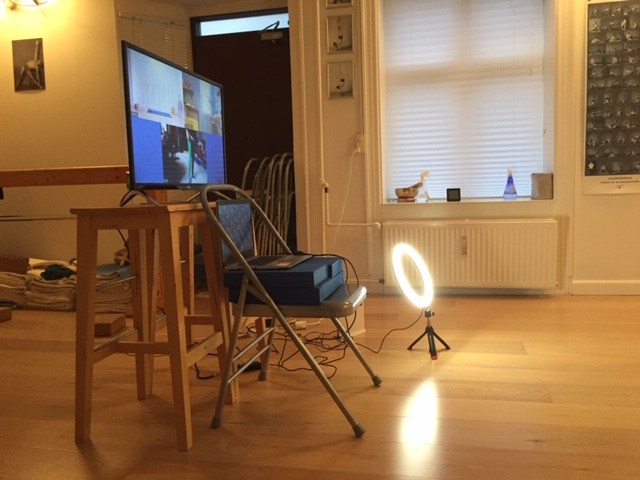 Vi tilbyder også Livestream undervisning, hvor du deltager i klasser eller workshops hjemme fra din egen stue, sommerhuset, eller hvor du nu befinder dig. Du kan være med via en pc eller tablet, mobilen kan også bruges, men billedet er meget lille. Du skal bruge dit log-in og password til vores bookingsystem.
Under pålagt nedlukning vil Livestream være de eneste klasser på skemaet. I perioder hvor vi godt må have elever i lokalet, vil de være et supplement til skemaet, så du kan deltage i undervisningen selv om klassen er fyldt, eller hvis du føler dig utryg og helst vil være hjemme.
Vi har elever fra den ældre generation som i denne tid har taget muligheden til sig og er glade for at være med på Livestream, det fungerer godt og er enkelt.
Det foregår via vores bookingsystem, Mindbody Online, hvor du allerede har en profil. Du tilmelder dig på skemaet, husk at vælge Livestream udgaven af klassen, og 30 minutter før holdstart får du tilsendt et link til log-in, som leder dig ind i det virtuelle Yogalokale. Vi er typisk klar 10 minutter før undervisningen starter. Du kan tilmelde dig indtil holdets starttidspunkt, linket kommer hurtigt efter.
Du vil via linket få muligheden for at downloade Mindbodys app, nogle klarer det fint uden og nogle synes det går nemmere med app'en.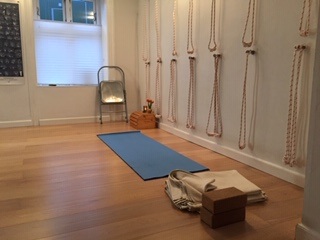 Du skal bruge en yogamåtte, to klodser (bøger), et bælte og et tæppe, evt fra sofaen. Vi underviser med et minimum af udstyr, men hvis du har pøller, skulderstandspuder, stol osv, så kan du selvfølgelig bruge det. Vi vil altid tage hensyn til den enkelte og komme med alternativer så alle kan være med.
Tips: Din pc skal helst være opdateret, Chrome virker bedre end Safari. Herunder finder du et link til troubleshooting, hvis du oplever problemer med at komme på:
Livestream troubleshooting
Vi glæder os til at se dig online!
Tilmeld dig via Skema og tilmelding